Jagsonpal Pharma
Jagsonpal is among India's premier pharmaceutical companies. With a strong focus on manufacturing, R&D, distribution and marketing, Jagsonpal Pharmaceuticals has become one of the fastest growing Indian pharma companies. Founded in 1964, the Company specialises in developing and manufacturing bulk drugs and pharmaceutical formulations. The Company has a robust portfolio of drugs focusing on Women Health, Pain and Analgesics and General Medicine.
GTI Infotel Pvt. Ltd. has been a pioneer in Track & Trace System and QR Code system. GTI has implemented QR code solution for Jagsonpal Pharmaceuticals Ltd.
Jagsonpal Pharmaceuticals Ltd l has substantial research and development, manufacturing, IT, marketing, and distribution facilities. An impeccable track record of growth and profitability spanning over 4 decades, makes Jagsonpal an ideal company to partner with.
Track N Trace system by Jagsonpal Pharmaceuticals Ltd
Jagsonpal Pharmaceuticals Ltd has introduced QR Code based Track n Trace System to ensure authenticity and facilitate tracking. A QR Code system has been introduced on primary, secondary and tertiary packaging and contains the following information:
Unique product identification code
Brand name
Name and address of the manufacturer
Batch number
Date of manufacturer
Date of expiry
MRP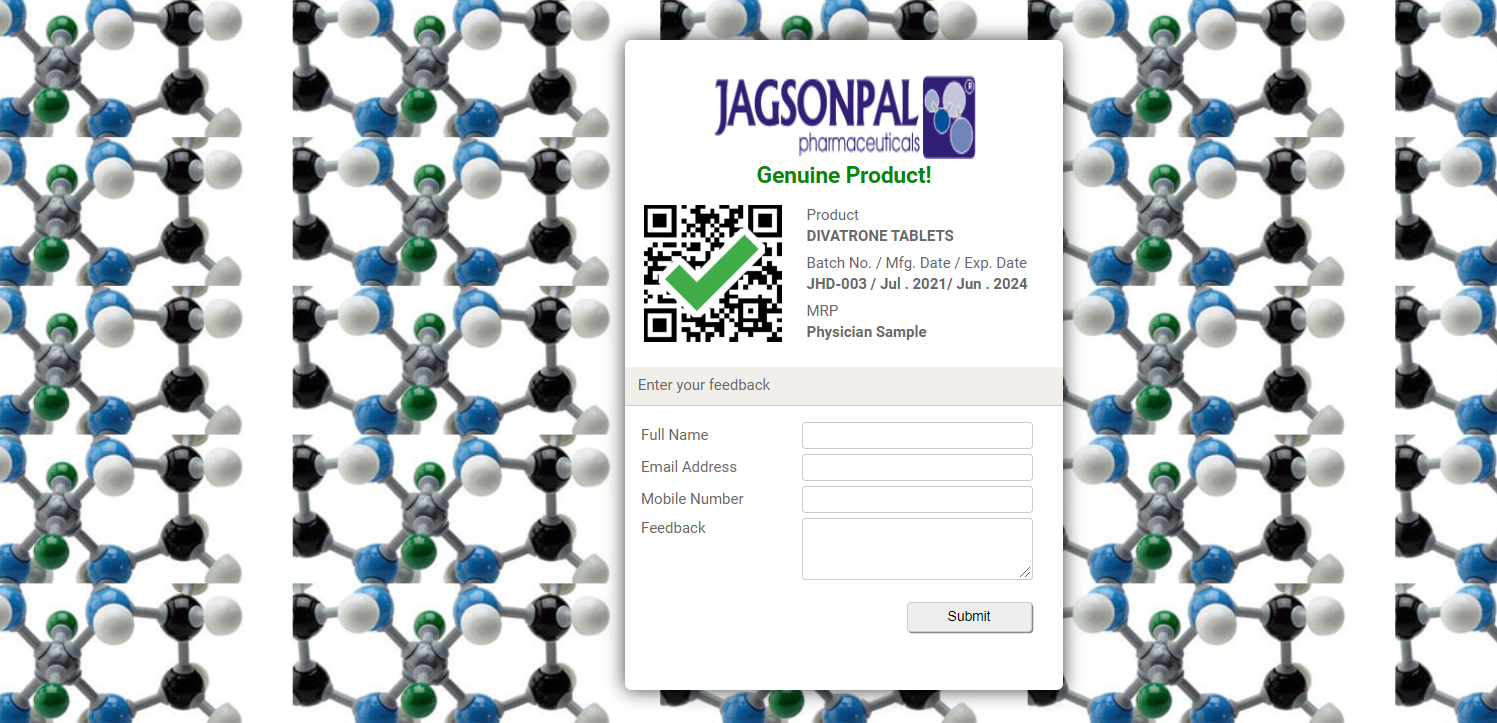 Consumers can scan QR Codes using their smart phone's camera in less than a second and check all the details. They don't need an app to scan the QR Codes.
Advantages to Jagsonpal Pharmaceuticals using QR Code:
1
Fair pricing
The pharmaceutical industry has already been on the top when it comes to unfair pricing. To curb this menace, Jagsonpal Pharmaceuticals has implemented the use of QR codes.
2
Tracking fake medicines
The consumers can check the legality of the medicine on scanning the QR code. This way, Jagsonpal Pharmaceuticals are able to combat the issue of illegal trafficking of medicines.
As Jagsonpal Pharmaceuticals are already using QR codes for this purpose, this has also increased the loyalty of the consumers towards their genuine brand.
3
Provision of detailed product information
Scanning the QR code via a smart phone will show in-depth details of the medicine to the consumers. This has boosted up the loyalty programs for the Jagsonpal Pharmaceuticals by introducing consumers to the right product information.
4
Product and web Promotion through QR code:
Scanning the QR code via a smart phone will show in-depth details of the products and this first scanning by consumers is routed to company's portal thereby showcasing various other products being promoted by Jagsonpal Pharmaceuticals Ltd.
---